Characters
Edit
Keisuke Hara has just been dumped by his girlfriend who tells him not to call or page her anymore. Depressed, Keisuke goes for a ride on his motorcycle only to crash into two gentlemen, one of which is carrying a gun. During the collision Keisuke's telephone card and a man named Gray's card fall out onto the street. Gray accidentally grabs Keisuke's telephone card by mistake, thinking it's his own card, while Keisuke ends up grabbing the other card. Gray tells Keisuke to forget what he's seen and gives him an alcoholic drink as compensation. It isn't until later that Gray discovers Keisuke grabbed his card, which is the activation key for a weaponized satellite system.
Drunk, Keisuke ignores his ex-girlfriend's request to not page her and mistakenly uses the activation key as a telephone card. Inputting his message to the ex-girlfriend, he activates a countdown for the satellite, setting Earth as its target. Much to Gray's dismay, because Keisuke was drunk he doesn't remember the passcode number he input for the satellite. Gray now has less than 24 hours to get Keisuke to remember by any means necessary or the Earth is doomed.
Resolution
Edit
Gray ends up catering to Keisuke's every whim, including allowing him to meet his favorite pop idol, Asuka Anzai. Asuka is relieved to get away from being an idol briefly and just enjoy life as a normal 17 year old girl. Keisuke and Asuka get to know each other better throughout the day and Keisuke ends up having the military deck Tokyo out like it's Christmas time. Asuka is happy and remarks that Keisuke is just like Santa Claus. Gray finally interrupts Keisuke's happy time and explains that the satellite is set to go off in 30 minutes. Thanks to talking with Asuka, Keisuke finally remembers what the passcode number he set for the satellite is and manages to stop it just as the timer reaches zero. Sometime after stopping the satellite, Keisuke receives a new telephone card from Asuka and calls her.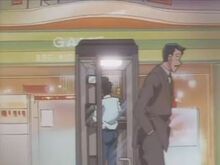 Kogoro Mouri makes a cameo appearance when Keisuke is in the telephone booth leaving a message for his ex-girlfriend.
The song Asuka sings is "Kitto ieru", the main theme for the Gosho Aoyama Collection of Short Stories OVAs. In this episode, Wakana Yamazaki, Asuka's voice actress, sings the song instead of Yukari Tamura.
References
Edit
Ad blocker interference detected!
Wikia is a free-to-use site that makes money from advertising. We have a modified experience for viewers using ad blockers

Wikia is not accessible if you've made further modifications. Remove the custom ad blocker rule(s) and the page will load as expected.