Volume 75 was released on April 14, 2012 in Japan.
Eye for an Eye
Edit
Anime Episode 652-655: The Design of Poison and Mirage
File 785 - The Mistress' Written Confession Edit
File 786 - The Parent-Child Optical Illusion Edit
The culprit is Yoshimi Satake
Another Kogoro
Edit
Anime Episode 661-662: Kogoro-san is a Good Man
File 787 - Kogoro-san is a Good Man Edit
File 788 - The Real Sleeping Kogoro Edit
File 789 - The Kogoro Imposter's Great Deduction Edit
The culprit is Junji Hyodo.
Painmobile
Edit
Anime Episode 659-660: Co-Investigating with a First Love
File 790 - The Object of Detective Chiba's First Love Edit
File 791 - Do You Not Remember? Edit
File 792 - Could You Possibly Be... Edit
The culprit is Tokuko Shigei.
Private Eye
Edit
Anime Episode 667-668: Wedding Eve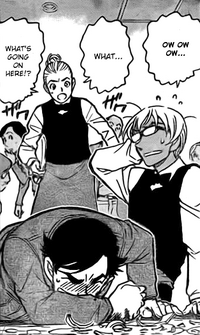 Characters introduced Edit
File 793 - Private Eye Edit
File 794 - Genome Edit
File 795 - Destined to Re-enter the Flames Edit
Raita Banba is not the culprit. The murder is actually a suicide.
A special edition of Volume 75 was released that includes a Petit Nendoroid figure of Conan in a Tokyo Spirits soccer uniform.
References
Edit
Ad blocker interference detected!
Wikia is a free-to-use site that makes money from advertising. We have a modified experience for viewers using ad blockers

Wikia is not accessible if you've made further modifications. Remove the custom ad blocker rule(s) and the page will load as expected.