Volume 77 was released on September 18, 2012 in Japan.
Overnight Deadline
Edit
Anime Episode 681-683: The Life-Threatening Broadcast of Love
File 807 - The Strongest Senpai Edit
File 808 - The Late Grave Visit Edit
Room Traces
Edit
Anime Episode 684-685: Froth, Steam, and Smoke
File 809 - Traces of Having Been in the Room Edit
File 810 - Froth, Steam and Smoke Edit
File 811 - The Tools of the Trade Edit
Cold Case
Edit
Anime Episode 690-691: Yusaku Kudo's Cold Case
File 812 - Yusaku Kudo's Cold Case Edit
File 813 - Kinichi-kun Edit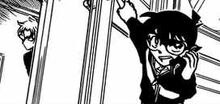 File 814 - Conan-kun, Right? Edit
Cabin Trap
Edit
Anime Episode 699-700: The Shadow Approaching Haibara's Secret
File 815 - One's Own Territory Edit
File 816 - Smoke Signals From a Dire Situation Edit
File 817 - A Lonely Figure in the Lamplight Edit
References
Edit
Ad blocker interference detected!
Wikia is a free-to-use site that makes money from advertising. We have a modified experience for viewers using ad blockers

Wikia is not accessible if you've made further modifications. Remove the custom ad blocker rule(s) and the page will load as expected.