Volume 84 was released on July 18, 2014 in Japan.
Aquarium Murder Case
Edit
Anime Episode 772-773: Shinichi Kudo Aquarium Case
File 883 - The Scarlet DetectiveEdit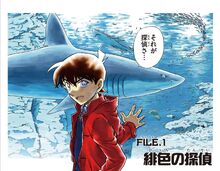 File 884 - The Pink AnswerEdit
The culprit is Naho Ojiro. Kunihiro was blackmailing her by getting her to pay him since he's neck is in debt or he would send embarrassing photos of her while they were dating to her lover, family and work place to humiliate her.
Kite-Flying Competition Murder Case
Edit
Anime Episode 765-766: Teimuzu River Kite Flying Case
Characters introducedEdit
File 885 - Kite-Flying CompetitionEdit
File 886 - The WiretapperEdit
File 887 - The Devil's VoiceEdit
The culprit is Takeshi Yatsukoshi.
Tea Poisoning Murder Case
Edit
Anime Episode 770-771: The Tense Tea Party
File 888 - The Tense Tea PartyEdit
File 889 - ZeroEdit
File 890 - High-Velocity Blood Splatters Edit
The culprit is Juri Kosaka.
Elementary Teacher Assault
Edit
Anime Episodes 779-780: The Scarlet Prologue, and The Scarlet Pursuit
File 891 - The Last PieceEdit
File 892 - Out of My Japan... Edit
File 893 - Bourbon's Pursuit, Scarlet PrologueEdit
The culprit is Fumiyuki Kandachi. Kandachi misunderstood Natsuko's checking system, in Japan (✓) is marked for wrong while (O) for correct; since she studied in America it was reversed. Because she used this system, Kandachi was confused about the difference and struck her without thinking. Since this was an assault and not a homicide, Inspector Megure would show leniency, while another teacher runs in and says the hospital called to say Natsuko has taken a turn for the worse. Conan, Camel, and Jodie rush to the hospital and she just got out of a successful surgery. Amuro tries to antagonize Camel into saying something about Rikumichi Kasuda, but Jodie pulls him away trying to keep him safe. Only Camel lets slip how Rikumichi died after she asks, and she vanishes leaving Camel in a confused state. The Jodie he talked with was really Vermouth and she tells Bourbon what she just learned.
References
Edit
Ad blocker interference detected!
Wikia is a free-to-use site that makes money from advertising. We have a modified experience for viewers using ad blockers

Wikia is not accessible if you've made further modifications. Remove the custom ad blocker rule(s) and the page will load as expected.