High school genius Yutaka Takai is sick and tired of being called "young" and feels embarrassed about what people would think if he and his girlfriend Mamiko Abe, two years his elder, were seen together. To solve his problem, Yutaka builds a time machine with the intent of going back in time two years in order to be the same age as Mamiko. Mamiko expressed her concerns about there being two Yutakas around, but Yutaka explains that his younger self will simply be erased from the time-stream. While Yutaka is distracted just before using the machine, Mamiko takes the machine, sets the dial for the future, and jumps off the school roof, telling Yutaka to "Wait for me". Alarmed, Yutaka discovers that Mamiko has set herself forward two years in time and that everyone, including Mamiko's family, is beginning to forget she ever existed. If Yutaka forgets, Mamiko will end up falling to her death at the school two years later. Despite Yutaka's best efforts, he too forgets about Mamiko's existence, although two years later something seems to be nagging at his mind. What was the important thing he had forgotten?
Resolution
Edit
Yutaka does calculations in his bedroom and discovers the precise time Mamiko will show up again at the school. Fearing for Mamiko's safety when she finally arrives, Yutaka makes notes all over his bedroom in order to keep his memory of Mamiko. After two years however, Yutaka has completely forgotten about Mamiko, given up his inventions, and has an underclassman named Shiozawa clinging to him. There's something nagging at the back of Yutaka's mind however and he slowly remembers Mamiko. Yutaka successfully saves Mamiko and they get back together again.
A girl who looks suspiciously like Ran makes a cameo appearance in Yutaka's class.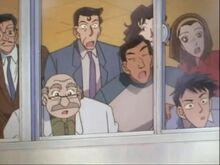 A guy who looks a lot like Agasa, appearing among the teachers looking out of the window. There is also a Sonoko look-alike and a Kogoro look-alike, if he didn't have a mustache.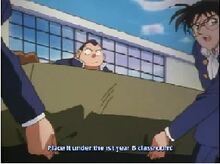 A guy student who looks a lot like an older Genta appears carrying the mat with Yutaka.
In the original manga story, Yutaka tells Shiozawa she reminds him of somebody, prompting Shiozawa to suggest she reminds him of Mamiko Takai. Mamiko Takai was a popular Japanese idol in the 1980s. The animated version was made in the 1990s, so it is assumed the animators replaced the reference with the scene with the little girl since the reference would be lost on more modern audiences.
References
Edit
Ad blocker interference detected!
Wikia is a free-to-use site that makes money from advertising. We have a modified experience for viewers using ad blockers

Wikia is not accessible if you've made further modifications. Remove the custom ad blocker rule(s) and the page will load as expected.